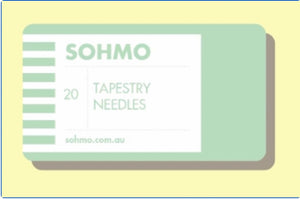 SOHMO Tapestry Needles
Tapestry needles feature a blunt, rounded point that does not damage material and makes for a more even stitch. These larger gauge needles are great for tapestry, long stitch, cross stitch, candlewicking and similar.
Made in Japan, these needles are snag-free, smooth and strong.
Packaged in a handy tin with sliding lid.
Needle size: 20 needles:
6 needles, 0.89 x 40.00mm (22 gauge)
7 needles, 1.07 x 45.50mm (20 gauge)
7 needles, 1.24 x 48.50mm (18 gauge)